Your Starting Five (of men's dress shirts)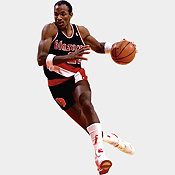 Last week we talked about cooling down with summer fabrics. Today we are going to introduce some hot patterns. Here are five summer dress shirts that every guy should have in their summer rotation.
The Solid White
The workhorse of every man's attire.  This is your Shaq. You simple dump the ball off in the post and get out the way. Simple to match with you tie, pants, and shoes. But surprisingly difficult to keep burger and pizza stains off (or maybe that's just me with my 11th grade coordination).
The Fine Line
This is simple but somewhat classier goto shirt. Think of this as you Clyde Drexler of dress shirts. Smooth and simple but enough of a force to be a regular contender.
The Thick or Bengal Stripe
This is your Kobe Bryant of dress shirts. This shirt can bring the "umphf" and screams "hey I just scored and I want you to tell everybody you know." This is your shirt when you want to be noticed.
The Windowpane
This shirt adds a little intelligence to your look, whether or not there is any there to start. This was a tough one as to who was a more intelligent basketball player, but I decided to go with Steve Nash. Amazing basketball IQ, but below average fashion sense most of the time but you get the analogy. (Originally thought about going with Jason Kidd, but with the DV abuse history and the DUI I though otherwise)
Gingham
This one is a bolder pattern, but not flashy at all. This would be your Karl Malone of the bunch. Strong, consistent, and like the Mailman, delivers most days of the week…it also is ready to throw a dirty elbow at the drop of a dime.
The starting five of any man's line up when it comes to dressing sharp.